Finish Options
We love the look of raw titanium, and our feeling has always been that best looking and most timeless finishes highlight the beauty of the metal itself. By mixing raw finishes like brushed, bead blasted, polished, and anodized titanium, we can stay true to that philosophy while creating an endless array of unique and personal designs. Our stock finishes include "Firefly" on both sides of the down tube, our logo behind the seat tube, "Boston" graphic at the base of the down tube, and our stainless steel or titanium head badge. Use the configurator below, selecting a base finish first and then different logo treatments and add-ons, to visualize a great variety of our custom finish options.
Bead Blasted Titanium

: Our stock finish. The slightly textured and matte surface is super durable and provides a perfect backdrop for graphics, from subtle brushed titanium logos to vivid anodized colors. Bead blasted titanium also allows us to create extremely crisp lines and fine details in custom graphics.

Brushed Titanium (+$300)

: This is the classic titanium finish, and we take it to another level with two days of meticulous hand-finish work for an extraordinarily consistent shine. Brushed titanium is also very durable and can even be touched up with Scotch Brite if it ever does get scratched or scuffed.
Brushed Titanium

Polished Titanium

Bronze Ano

Purple Ano

Light Blue Ano

Gold Ano

Pink Ano

Teal Ano

Green Ano

Green to Gold Ano Fade

Green to Teal Ano Fade

Teal to Pink Ano Fade

Pink to Gold Ano Fade

Splatter Ano!
Blasted Titanium

Polished Titanium

Bronze Ano

Purple Ano

Light Blue Ano

Gold Ano

Pink Ano

Teal Ano

Green Ano

Green to Gold Ano Fade

Green to Teal Ano Fade

Teal to Pink Ano Fade

Pink to Gold Ano Fade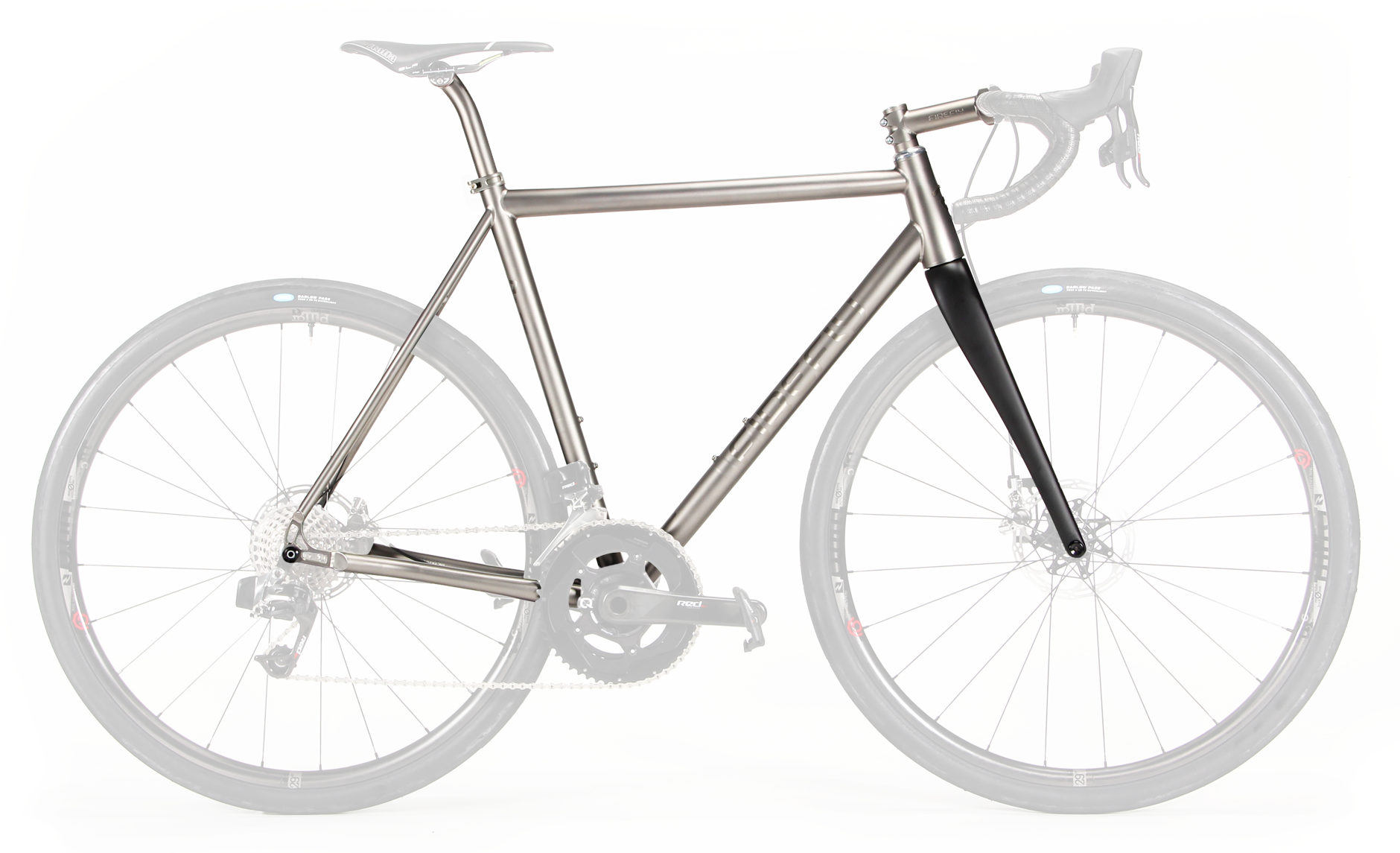 Blasted Ti Frame: No charge
Brushed Logos: No charge
Polished logos: $100
Colored Ano: $200
Color Fade Ano: $400
Splatter Ano: $700
Name on Top Tube: No charge
Made in Boston: No charge
Ano Head Badge: $50
Total Finish cost :: $

0
Brushed Ti Frame: $300
Blasted Logos: No charge
Polished logos: $100
Colored Ano: $200
Color Fade Ano: $400
Name on Top Tube: No charge
Made in Boston: No charge
Ano Head Badge: $50
Total Finish cost :: $

0
The bike is beyond great. It feels like I have been riding the bike for many years. No soreness or stiffness that often comes when changing bikes furthermore I have less fatigue in the lower back and arms after a long ride, I only noticed I use my upper legs (thigh muscles) more than on previous bikes. It handles and responses like I want to, thus I am way more confident to take 'sharp' turns. And overall it feels like it easier to get to and maintain a higher speed than before. And it still looks great too ;)"
See the build